A Stone's Throw was chosen to be part of the highly competitive Melbourne Fringe Hub live streaming program and completed an acclaimed show season in 2020, which was followed by a season in the Adelaide Fringe Festival in early 2021, attracting very favorable reviews at the time. Thank you all, the audience, friends colleagues for all the support, please looking forward to our future productions.
————————————————————
In response to audience interest, A Stone's Throw will make its premiere Adelaide Fringe appearance on March 11.
Event Page:https://adelaidefringe.com.au/fringetix/a-stone-s-throw-af2021
We look forward to seeing you soon!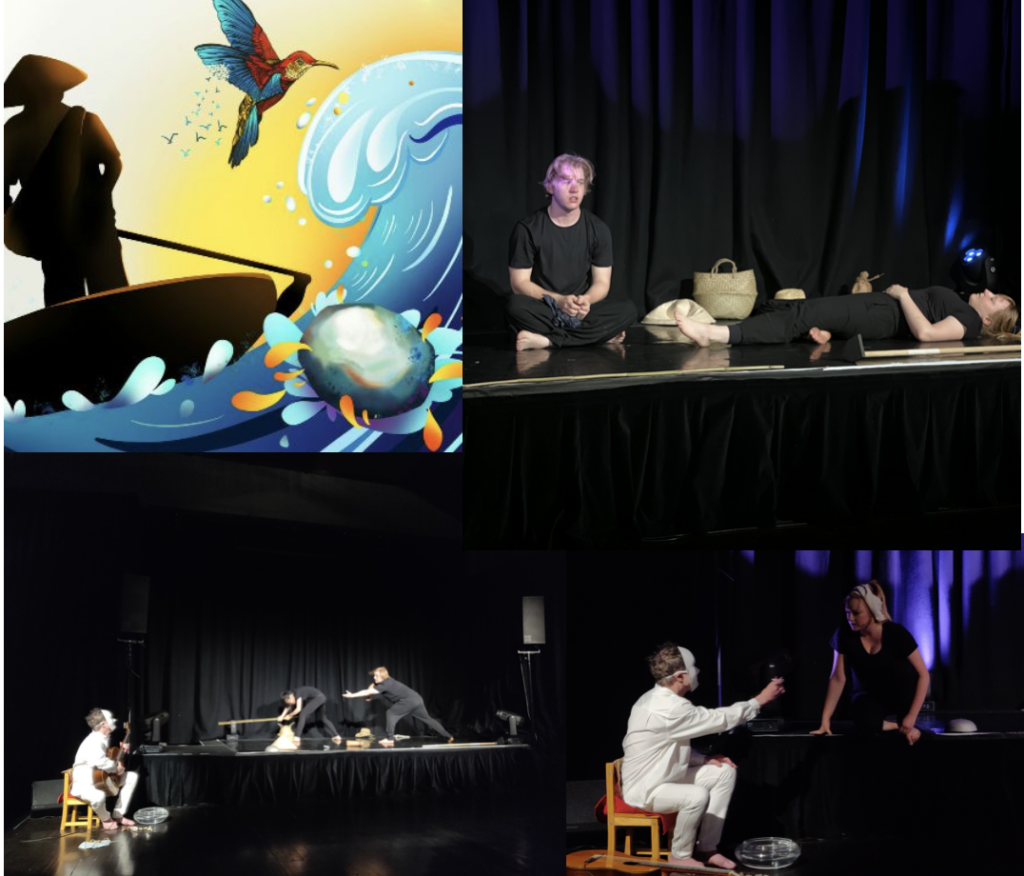 Awards:
2021 Art Music Awards APRA AMCOS | AMC Nomination
Work of the Year: Dramatic – John O'beirne – Melancholy Fisherwoman
Reviews:
This performance definitely evoked that feeling with the silent storytelling, migrating into contemporary dance pieces and back to the story.
If you are looking to explore a Fringe event that is unique, moving and engages your mind pulling you back to the moment, look no further than A Stone's Throw.
by Erin Jade Weekend Notes
————————————————————
It has been a wonderful season at Melbourne Fringe. Thank you all, the audience, friends colleagues for all the support ! ! See you again next year.
Reviews:
A Stone's Throw may not have much in the way of narrative, but considering the audacity of its scope – let alone the challenges of performing digitally without the benefit of a live audience – it certainly provided plenty of atmosphere and entertainment.
by David Collins_Australian Arts Review
Three performers take to the stage… Dark and mysterious lighting creates a mystical aura as they move in unison, fluttering their wing- like-arms as they trawl across the floor with their backs facing the audience. They weave in and out, leaping with fluidity and strength as the story unfolds.
This is a subtle yet upfront show that offers sorrowful yet beautiful encounters between rural people.Wang has orchestrated a delightful piece of physical theatre and his expertise in physical theatre, working for the Chinese theatre group San TuoQui and the Beijing International Youth Theatre, including shows in Edinburgh and Avignon, is evident.
The masked musician (John O'Beirne) sits to the side of the stage with guitar, plucking with punctuating evocative sounds and caps off each act by dropping a stone in a fishbowl. It is a simple yet charming gesture that completes a part of the dramatic journey. I commend all the people involved in this show and look forward to their next production.
by Flora Georgiou_Stage Whispers
————————————————————-
We are excited to announce that our debut production–A stone's throw has already been chosen to be part of the Festival Hub live streaming program and will do a show season from November 25th to 28th this year.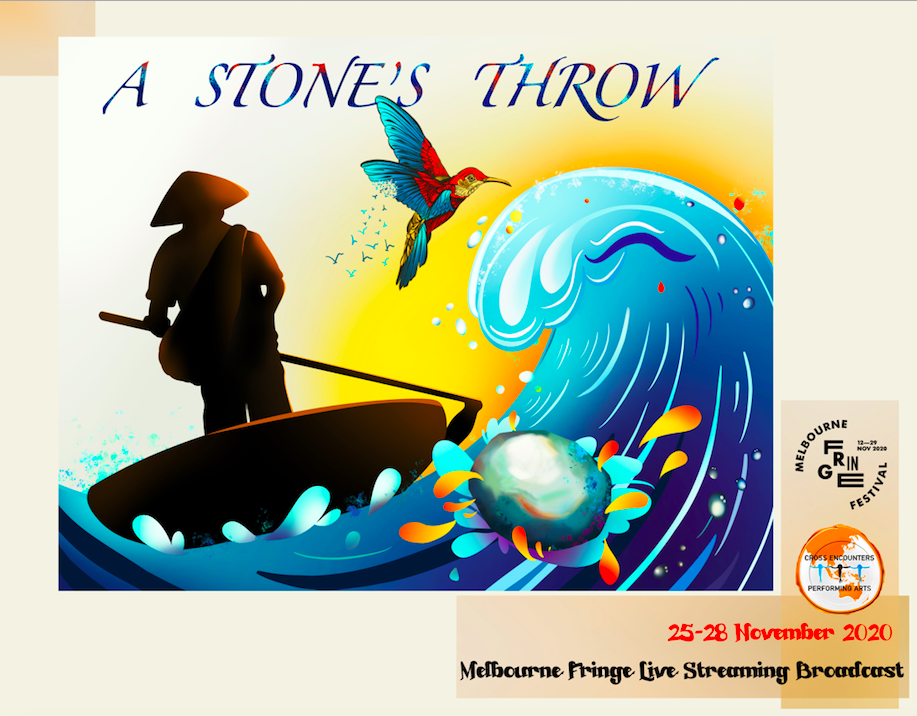 This is an innovative show, the first ever physical theatre piece combining Chinese and Australian performers under a Chinese director. To reflect the performance, a specially designed music suite will accompany the story. It contains sounds and musical themes drawn from both Chinese and Western sources.
The piece creates a parable set in a land of idyllic beauty where the people live in a serene pastoral life. A sudden misfortune in the community, forces the other members into a contemplation of their mortality. Different characters are going through recurring cycles of life and trying to explore its true meaning, which may be a mysterious yet beautiful journey. Although the theme is philosophical, the performance is light in touch and has flashes of humour as it moves through and reaches an uplifting conclusion.
The director Noah Zhao Wangis a professional director long active in physical theatre area in China and has performed in prestigious festivals includingAvignon and Edinburgh Festival with his group. His most recent award winning work, QIANG YU and the later developed larger scale work SHEN YU, were presented at the Beijing International Youth Theatre Festival 2017 and 2018 respectively. He moved here early in 2019and has committed to present us with the first ever professionalphysical theatre with Chinese background.
A striking music approach, using solo guitar, evokes the classic tones of Chinese instruments such as Sanxian, Erhu and Yueqin, in an exciting way that highlights the dramatic elements of the story. The composer&sound designer, John O' Beirne, is a local musician who has played around the Melbourne music scene for several years as a soloist and ensemble member in rock, folk, pop and jazz outfits. John has also been involved in theatre composing since 2019.
The collaboration between artists from different cultural backgrounds is the cornerstone of this project. The story, performance style, music and creative line up of the whole play all reveal continuing progress in promoting cross-cultural communication between China and Australia. The dynamics of the cross-cultural elements, converging toward an unexpected encounter make for a truly innovative and unique work. Please refer to The Process Of Creation to see more details.
It will debut worldwide on November 25, 2020 through Melbourne Fringe live streaming broadcast.
Past Reviews:
"肢体的意向性表演" – " A strongly physical performance using the body…"
"无实物的具体空间表演" –" Interesting animated space performance, without reliance on physical objects…."
"诠 释 人 们 心 中 永 恒 的 美 好 " –" Evokes the everlasting beauty in people's hearts…"
– Penghao Theatre
Past awards:
Best Drama Award in '48小时V戏剧' Competition in Beijing International Youth Theatre Festival 2017
Media reports:
"History has taught us that the very trying times make the most innovative, and we can certainly celebrate those innovations within our theatre community as companies and groups forge through their shared challenges with ideas both unique and stimulating. One such group is emerging Cross Encounters, who present their inaugural work, A Stone's Throw, for the Melbourne Fringe Live Streaming Broadcast later this month" -Theatre People
"Exploring a dramatic and spiritual journey of the mystery of life, death and existence, Cross Encounters will present its inaugural production", A Stone's Throw, as part of the Melbourne Fringe Digital Program: 25 – 28 November 2020. -Australian Arts Review
"Cross Encounters presents the premiere of Chinese / Australian physical theatre piece A Stone's Throw at Melbourne Fringe" – Stage Whispers

https://www.stagewhispers.com.au/stage-briefs/cross-encounters-presents-stones-throw-melbourne-fringe
A Stone's Throw Presented by Cross Encounters
Dates: 25-28 Nov
Times: 6.30pm
Venue: Melbourne Fringe Live Streaming Broadcast
Tickets: Choose Your Price
Event Ticket Page: https://melbournefringe.com.au/event/a-stones-throw/
Event FB page: https://www.facebook.com/events/818887542255045/
This project is proudly supported by Melbourne Fringe Ralph Mclean Microgrant program.
For media enquiries please contact: crossencounters01@gmail.com
We respectfully acknowledge the Traditional Owners of the land on which we live, work, play and create. We pay our respects to the people of the Kulin Nations and all Aboriginal and Torres Strait Islander Elders past and present.