Dear all,
Hope you're all safe and doing well.
We would like to say thank you to those who came to our last online workshop-Relaxing your mind and body, what a fun time! We'll continue organising the second free physical theatre workshop&open rehearsal at the end of this month. Our residential artist Noah will continue to introduce us to different movements exercise and techniques. Meantime you'll see distinctive intercultural theatrical presentations and communications between Noah and local performers from the rehearsal process of our debut production-A Stone's throw. It'll be ourlast free online workshop before we enter 2021, so be sure to stay tuned;) Please keep an eye on our web, FB, ins or twitter page, we are thrilled to invite you to enjoy the cross encounters journey and celebrate our playful cultural experiences!
Best regards,
Cross Encounters Group
———————————————
In response to audience interest, Cross Encounters starts holding a series of delightful free online physical theatre workshops this month! As the second series of our public program 2020, our residential artist Noah will introduce us to different movements exercise and techniques. Meantime we continue to provide cross-cultural theatrical presentations and communications for theatre lovers by opening the rehearsal process of our first production- A Stone's throw, which is the first ever physical theatre piece combining Chinese and Australian performers under a Chinese director. This show has already been selected in the Melbourne Fringe hub live stream spots and will do a show season from November 25th to 28th this year..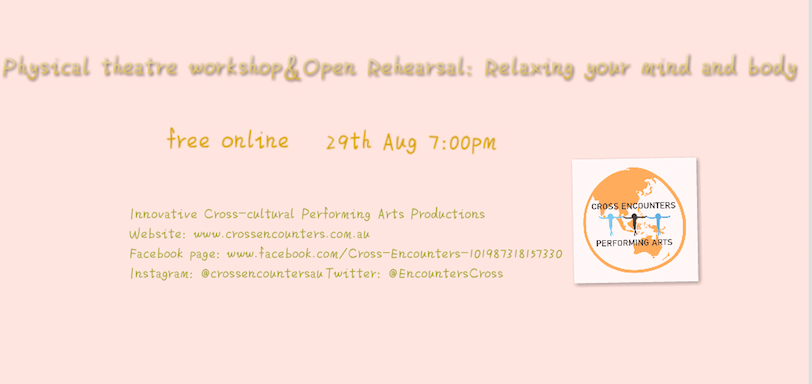 Do you wish to learn some movement tips? Do you want to see how performers from different cultural backgrounds work together and rehearse for a physical theatre piece, ON ZOOM? Come and join us, get out of your chair, and have a fun night!
About Noah:
Noah Zhao Wang is a director long active in physical theatre area in China and has toured domestically and internationally with his group before. His most recent award winning piece, QIANG YU and the later large scale work SHEN YU, were presented at the Beijing International Youth Theatre Festival 2017 and 2018. Noah is committed to innovation and experimental drama, on the way to explore the training methods of physical theatre, theatre drama form with training methods of French Jacques Lecoq and Chinese opera culture and martial arts.
About the cast who's going to join the intercultural presentations in this workshop:
Jesse Donaldson
Jesse is currently finishing a Bachelor of theatre and performance at the University of New England. He gained solid student theatre experience though University productions Blackrock (Ricko), Love and Information and Spring Awakening (Headmaster). Later on he appeared in external productions including Some Explicit Polaroids (Victor) and Singing in the Rain (ensemble). Finally as a actor Jesse has appeared in two productions, Chicago (ensemble) and Spring Awakening the Musical (Georg Zirschnitz). Jesse has 8 years martial arts training background, including Karate and Muay Thai Boxing.
Rosemary Ochtman
Rosemary holds a Bachelor of Theatre and Performance (2020), and the Peter Elkin Drama Prize in recognition of her achievements whilst training. As an actor Rosemary has been involved in a number of theatre productions alongside her actor training, including 'Blackrock' (Tiffany and Philomela), 'Some Explicit Polaroids' (Nadia), 'Love and Information' (Multiple Roles), and 'Speaking in Tongues' (Sonja). Rosemary started performing at the age of 4 when she begun her 12 years of dance training, during which she performed at numerous dance events until 2016.
The event will be held on Zoom and please check our facebook event page:
https://www.facebook.com/events/348572172844147
with further invitation links and password code.
We look forward to seeing you on Zoom soon!